Private Training
In Your Home
Meet our trainers!
Ginger Ament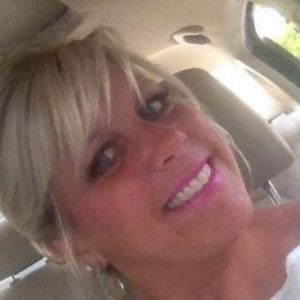 Ginger became involved with TAOK9 Unleashed in 2017 when she certified her two Dobermans as Emotional Support Animals. With a degree in Psychology and Sociology, Ginger truly enjoys helping with coaching and being there for all those who need encouragement and support. She became a TAOK9Unleashed team member in December 2018, assisting Suzanne Aaron with coordination of training and boarding. Ginger is also responsible for the business operations of the service dog training programs.
Ginger is a native Georgian and currently resides in Dawson, Georgia with her husband Ed and dogs Argus (Doberman) and Benson (Newfiedoodle).
Barbara Coakley
Barbara Coakley became involved with TAO K9 Unleashed after meeting and training her personal dogs with Suzanne Aaron, TAO K9 Unleashed owner and head trainer. Barbara brought home her first rescue animal at the age of nine and has not stopped since then – she was devoted to helping animals and that devotion has not ceased. Barbara is a head trainer for TAO K9 Unleashed, where she participates in teaching group training, as well as doing private lessons and evaluations. She also serves as committee lead on the training committee for Coco's Cupboard Inc. She is passionate about training and helping people with their dogs. 
Barbara is originally from Long Island, New York, where she was a Police Detective until she retired from the Suffolk County Police Department and relocated to Fayetteville, GA in 2003 She lives with her two daughters, Kristin and Lauren, along with her dogs Finn, Zora, and, Nemo as well as Kurt the cat.
Todd Johnston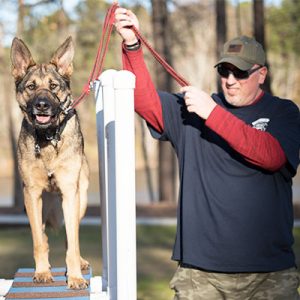 Todd Johnston worked for nine years in law enforcement, where he met his favorite veteran, his future wife, Gail. After Gail went through service dog training with their dog, Reilly, with Suzanne as her trainer, Todd saw the effect that having a service dog had on his wife and friends. He knew he had to help others find what Gail had found, so he became a volunteer, helping Coco's where he could, and later helped Suzanne start Tails of Hope.
Todd is the Volunteer Coordinator for Coco's Cupboard and the President of Tails of Hope.
Natalia Nizker
Natalia Nizker began her journey of working with dogs while training her own pet dog Tabby with TAO K9 Unleashed. It was such a blessing to meet and work alongside a group of the most kind and caring people who put the needs of others before their own. Natalia quickly fell in love with the mission and started helping out with obedience and service dog classes. She later became a Certified Trick Dog Instructor and an Animal Actor Evaluator. She believes in choice-based, game-based positive reinforcement training where work is play and play is work.
Natalia's pack consists of German Shepherd Dog Tabby and Belgian Malinois puppy Kinna who was adopted from Coco's Cupboard. Natalia feels honored to support and be a part of this organization!
Cristi Waller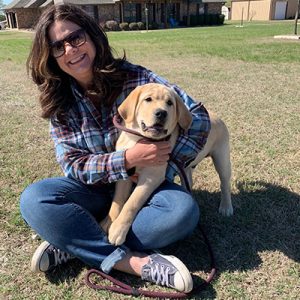 Cristi's husband surprised her on her 31st birthday with 2 yellow lab puppies. She quickly realized she was over her head and joined a local puppy class. She learned it was more about teaching humans how to correctly communicate with their animals than teaching the dogs. She fell in love with the training process.
She has fostered many dogs through Coco's Cupboard and helps train service dogs for Tails of Hope as well. Cristi's pack currently consist of a GSD, Great Dane, Great Pyrenees and a Lab mix. You can find her leading the advanced classes at group training, doing scent training for fun or out on a hike with her pack.
Melanie Wonneberger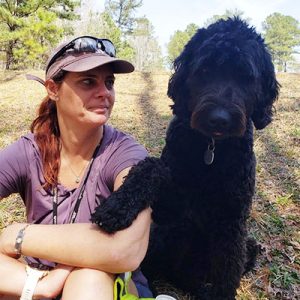 Melanie Wonneberger has a long history of training dogs. As a young girl in Germany, she watched her father train the family doodle, and she saw firsthand the outstanding results he achieved through his formula of love + discipline + structure. From this foundation, she went on to effectively train several dogs on her own. Later in life, however, Melanie realized she needed even more from her current dog, a GSD named Rex. Her search for help led her to Suzanne Aaron, who recognized that what Melanie really needed was a service dog who could help her with her PTSD and seizures and other related medical issues.
Melanie's journey in the service training dog world started 8 years ago with Rex in a class led by Suzanne. During the class, Suzanne recognized Melanie's skill and potential, and signed her on as a trainer/coach. She's been with us ever since. Most recently, Melanie trained a Newfiedoodle, Kona, to be her service dog. Kona fetches Melanie's medications, alerts to anxiety and high or low blood pressure, and helps with seizures.
In addition to all she does for Tails of Hope, Melanie lives part-time in Colorado, where she has started her own service dog training business. She also helps at the local shelter there, providing dog evaluation and individual and group training services. She currently has 3 GSDs – Rex, Angel and Simba – in addition to Kona.